Each wagon of Rambler is high quality.
The Ramblers, the beach wagons of Rambler, available in three models, are designed and developed by passionate outdoor hikers with children. This is reflected in the choice of the materials, the clever design and technical applications.
Ramblers can be moved by two persons if the push bars are fitted. It could not possibly be any easier.
Pulling is actually the only way to get a stroller or a pram forward on bumpy and sandy ground. All pushcars have namely caster wheels which strand on bumpy and sandy ground. Even heavy loaded pushcars do have the problem that you need extreme effort to steer them. Pulling is therefor easier and and better for the body load.
The large wheels make it an all - terrain vehicle. Whether it is on the beach, in the woods or on the sidewalk it continues to be light to pull!
Thoughtful design
The open back of the Rambler beach wagon is not there for no reason! The children can get on and off where it is safe. It's fantastic for the kids! Especially in the woods, on the beach or in the park. And it is ergonomic too, because it saves a lot of lifting the children in and out of the wagon. And when necessary, the rear end can be closed with a board which can be easily slid in place there.
The extremely strong fabric upholstery helps to make the wagons light. This substance can be simply washed in the washing machine at 30 degrees.
In short: a well thought-out design! Dutch design.
Child care centre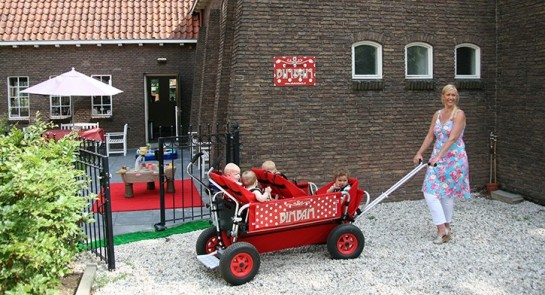 Daily use