Twin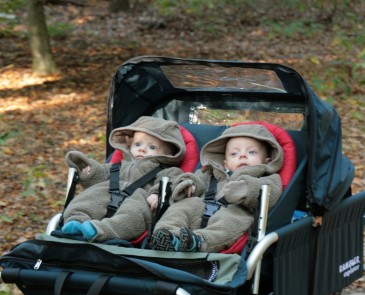 Triplet
Quadruplets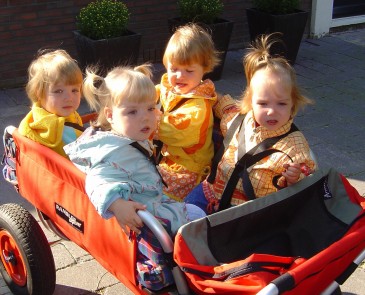 Why is a Rambler the ideal outdoor wagon?
Suitable for all ages from 0 to 7 years.
Easy exchange of baby-seats and other accessories.
Compact wagon in dimension: fits through every door.
More models up to 10 seats.
Large wheels are useful for curbs, sand, grass and gravel.
Hood available for rain, wind and sun.
Children can step in themselves through the backside. No lifting or climbing.
With the push bars you can move the wagon with 2 persons!
Top-quality, will last a lifetime.
Wagon sides printable for advertising!
Why a pull wagon?
Pulling a wagon has several advantages:
Pulling a cart is easier on soft surfaces, for example in gravel, grass and sand. One pulls the wagon a bit out of the soft surface. When pushing you also push the front wheels into the soft surface, which makes the wheels get stuck.
When pulling the wheels always follow the walking direction and the wheels are controlled by the pull bar. This saves much additional steering on uneven surfaces and takes no effort.
Extra to the pulling, in addition a second person can push the wagon with the pushbars. The Rambler outdoor wagons are the only ones in its kind to move forward with two persons.